Banila Co Clean It Zero | Cleansing Balm Review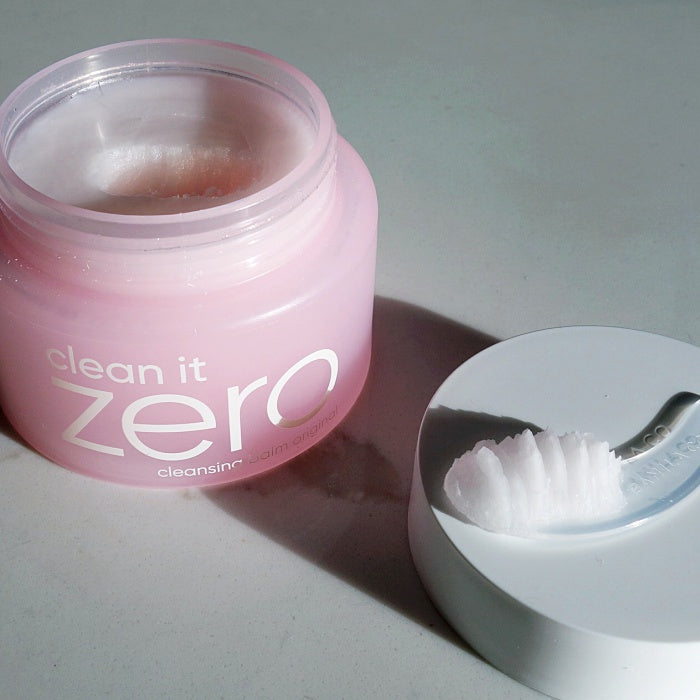 Description: Banila Co Clean It Zero is a cult favourite in the Asian/Korean beauty community. One tub of this cleansing balm sells somewhere in the world every 5 seconds! The lightweight, sorbet-like balm emulsifies and melts away all traces of makeup and pore-clogging impurities within seconds of being rubbed onto the face. 
Review: I have been using this cleansing balm as a makeup remover ever since I've started my Korean skincare journey and absolutely love it! As someone with sensitive skin, it has never irritated my skin. It's very easy to use and quick to work. My skin is always left feeling thoroughly cleansed and refreshed. I personally like the scent of it - kind of rosy with a hint of strawberry. The only issue I have is that it blurs my vision for a few seconds if used around the eye area (but it doesn't cause discomfort). I follow it with a water-based cleanser.
Price: $24 CAD (Buy It Here!)
Our Rating: 5/5 
How to Use: Use the spatula or your finger to scoop out about a gram of product into your hands. Massage it onto dry skin while concentrating on the areas with most makeup. The balm will emulsify into a milky texture. Rinse with lukewarm water.
Star Ingredients: Papaya, acerola and herbal extracts. 
Skin Type: Safe for all skin types
How Long it Lasts: ~1-2 months of daily use 
 Pros
 Cons

Melts away makeup quickly, effectively and effortlessly

Will not leave your skin feeling dry after use

Does not strip your skin of its natural oils

Contains fragrance (though not overpowering)

Can blur your vision for a few seconds if used around the eye area