Korean Skincare Star Ingredients & Their Functions (2)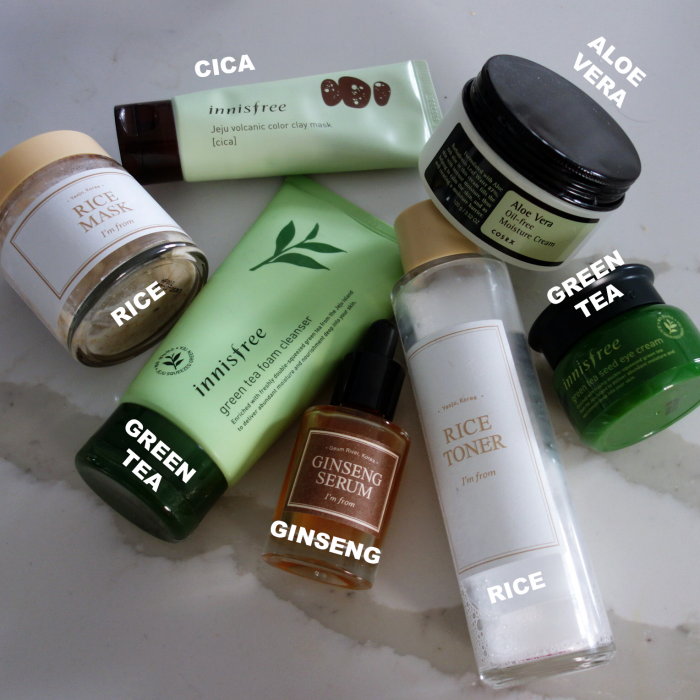 Another round-up of some of our favourite ingredients commonly used in Korean skincare beauty products. If you've missed it, here was part 1! 
Green Tea
It has for many centuries been seen as a power ingredient for good health. It has a long list of benefits, whether taken internally (eaten or drank) or applied topically (in the form of skincare). Either way, it helps to improve your skin and overall health. 
♦ Anti-oxidant and anti-inflammatory properties
♦ Reduces redness, irritation and swelling
♦ Combats acne and breakouts
♦ Provides Vitamin B2 & E to the skin
♦ Reduces sun damage
Ginseng
They are slow-growing perennial plants, popular in Asian countries for its myriad of health benefits (from increased energy, anti-aging benefits, detoxing to weight loss). This power ingredient has been used in Chinese herbal medicine for centuries and now is a popular ingredient in skincare.
♦ Helps to firm up and tighten your skin, reduce fine lines and wrinkles
♦ Helps to counteract dryness as well as balance oiliness 
♦ Boosts skin's energy and radiance
♦ Brightens skin tone and complexion
♦ Reduces under-eye circles and puffiness 
Aloe Vera 
A cactus plant that has been used for medicinal purposes for centuries. It was considered the "plant of immortality" for ancient Egyptians. Its leaves secrete a clear gel that can be applied directly to skin, to soothe and heal wounds (especially burns). 
♦ Very moisturizing without a greasy feeling
♦ Reduces skin inflammation and irritation
♦ Can treat acne, psoriasis and eczema
♦ Rich in skin-loving vitamins and anti-oxidants
♦ Soothes sunburns 
Centella Asiatica (Cica)
An herb commonly used in Chinese traditional medicine, food and drinks. It has high anti-oxidant content. When taken internally, it can help lower blood sugar, improve memory and mood. It also has a variety of benefits when taken topically, for the skin, as well.
♦ Reduces effects of sun damage
♦ Rich in vitamins A, C, B1 and B2
♦ Boosts collagen
♦ Reduces signs of aging
♦ Reduces inflammation and acne scarring
Rice 
The most widely consumed staple food/grain for most of the world's population, especially in Asia. Centuries ago, Geishas would use rice water to soften their hair and skin by bathing in the water leftover from rinsing uncooked rice. Today, it's an ingredient rapidly rising in popularity of Asian beauty products. 
♦ Gentle exfoliant/smoothes out rough texture
♦ Brightens skin in a much safer way than artificial brightening chemicals
♦ Increases ceramide production to combat signs of aging
♦ Evens out complexion
♦ Nourishes the skin