Korean vs. American/Western Skincare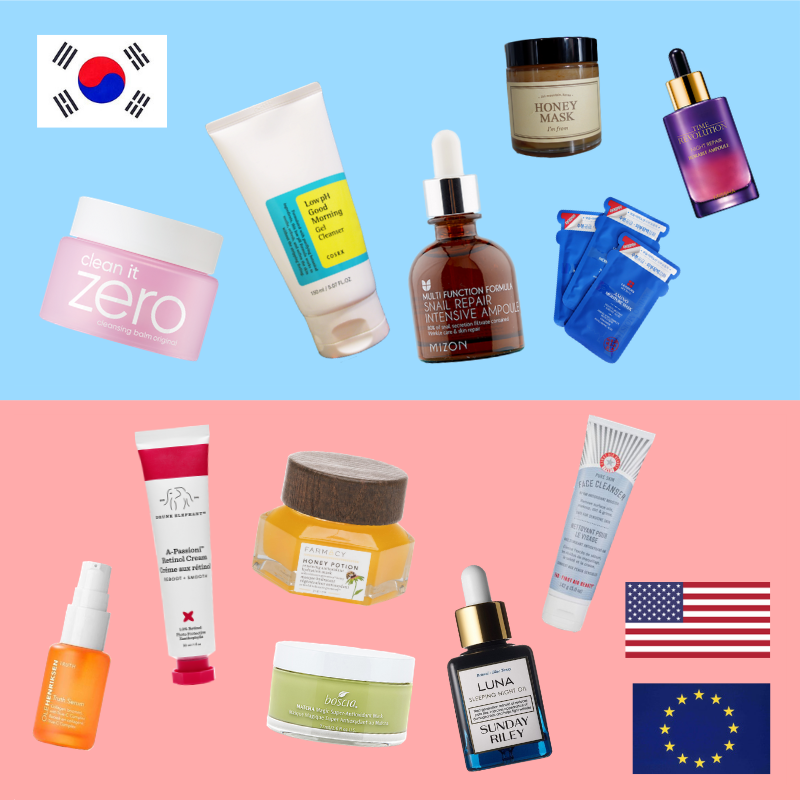 South Korea's beauty industry is now worth in excess of $13 billion, one of the largest in the world. K-beauty products have rapidly been gaining in popularity in the worldwide beauty markets over the past decade. 
From sheet masks to sleeping masks, to snail slime and volcanic clay products, Korean products can now be found on the shelves of Sephora stores everywhere and many international online retailers. The 10-step skincare routine is now used by women everywhere and achieving glass skin has become a major trend in the western world. 
Advanced Technologies
The technology and ingredients behind K-Beauty are hailed as the most innovative and advanced; 12-14 years ahead of the US. As there are so many competing South Korean beauty brands, this helps to drive prices down. It also ensures that much more research is put into creating each new product, as each brand tries to be the best. 
Approach
K-Beauty products emphasize a long-term approach to skincare. Results cannot, and should not, be seen overnight in order for them to be lasting. Products will gently nurture the skin towards the desired results through a consistent and personalized skincare routine. Prevention is also important. Skin should be taken good care of before issues or signs of aging arise. 
Ingredients
New, innovative and well-researched ingredients (snail mucin, propolis, ginseng, volcanic clay, etc) are often used. There is an emphasis on natural (and many ancient) ingredients. This makes Korean beauty products safe to use for even the most sensitive skin types. 
Differences between K-Beauty and Western Beauty
The culture of taking care of one's skin and achieving a beautiful appearance is deeply ingrained in Korean culture. Girls are taught this at a very young age so that for them, it becomes the norm. 
Korean women are said to spend twice as much on beauty products than their American counterparts. As the market is much larger in Korea, this also means that the products are much more affordable.
The use of sunscreen and products with SPF are very important for Koreans. The sun is considered as a mortal enemy. This is one of their secrets to youthful skin and preventing sun spots. In America, the tanned skin look is much desired. In South Korea it is the opposite; a light and bright complexion for porcelain-looking skin. 
American beauty focuses on a very "made up" face; a full face of glam, contouring, matte lips, matte skin, voluminous lashes, etc (Kylie Jenner style). Korean beauty is the polar opposite; minimalist makeup with a dewy, moist/"glass skin" look. Healthy glowing skin is essential to achieving this look, hence the importance of a strict skincare regime. 
Korean skincare focuses on moisturizing and replenishing the skin with natural ingredients. Hydration is of utmost importance. American skincare focuses on eliminating and drying out bacteria from the skin. 
Koreans see professional facials as regularly scheduled maintenance, while Americans see it as more of a luxury. 
Traditional Korean skincare routine: pre-cleanser, cleanser, exfoliator, toner, essence, serums/ampoules, sheet mask, eye cream, moisturizer, sunscreen. 
Traditional American skincare routine: cleanser, toner, serum, moisturizer.