Benton Snail Bee Ultimate Serum - Review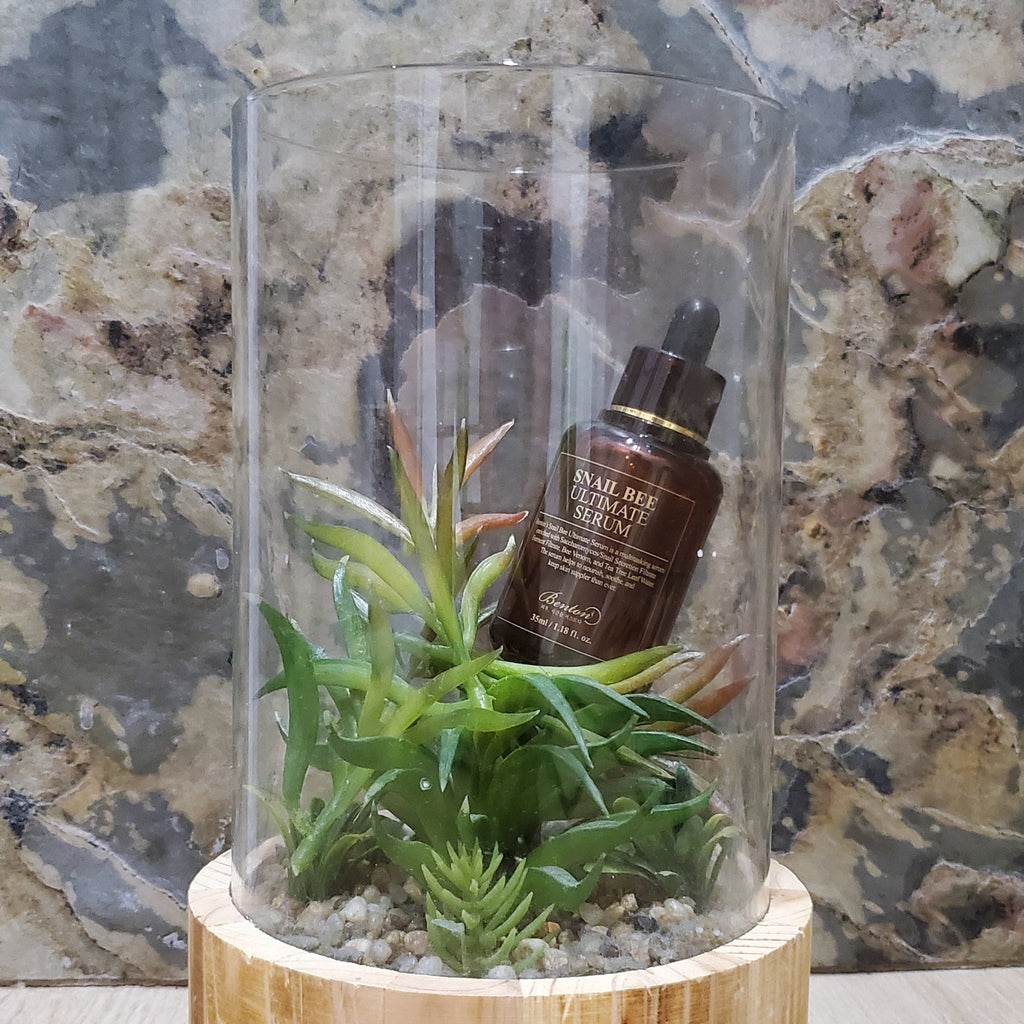 Benton is one of my all-time favourite brands for troubled skin. The brand is known for its natural formulation using skin-loving ingredients, especially without any harsh additives. They are also ethically sourced and is highly trusted for creating high-quality and effective skincare products that everyone knows and loves.
The Benton Snail Bee Ultimate Serum promises to improve skin texture and complexion. Specifically, this serum claims to repair damaged skin, treat hyperpigmentation and calm irritation with star ingredients like snail secretion filtrate, tea tree leaf water, aloe leaf juice, and willow bark extract. Let's take a closer look at the benefits of these ingredients to see if it really is magic in a bottle.
Snail secretion filtrate, otherwise known as snail slime, is one of Asia's top skincare ingredients. Snail secretion contains hyaluronic acid (which is an amazing skin replenishing ingredient that has superior restorative abilities to defend moisture loss), glycoprotein, antimicrobial and copper peptides, all of which are anti-aging, fighting against premature aging. The nutrients in snail secretion helps protect our skin of environmental damage and dryness. Not only that, but they also contain enzymes and glycolic acid (a natural exfoliant) which helps to fade acne scars, reduce wrinkles, gently remove dead skin cells, and generate cell renewal. With consistent use, you can expect to see a reduction in hyperpigmentation, wrinkles, and even acne!
Melaleuca alternifolia (or tea tree leaf) is a popular ingredient commonly used to treat skin and hair conditions such as acne, dermatitis, lice, and dandruff. The ingredient is best known for its antibacterial and anti-inflammatory properties, helping to reduce redness, swelling, and irritation. Tea tree oil/water is an amazing ingredient to treat acne, both the severity and the overall amount, with countless of studies done to test its effectiveness. It also helps to clear out pores, tighten the skin, as well as remove excess oil. This is a great ingredient for those struggling with oily/combination skin types. However, like most plant oils, it should be stored carefully, away from direct sunlight and air. It has the potential to sensitize skin when routinely exposed to air as that causes oxidation, and thus, making the volatile components more potent.
Camellia Sinensis Leaf Water is one of the best ingredients with antioxidants benefits. As such, it is known to protect skin against premature aging. Along with its anti-inflammatory and antibacterial properties, this ingredient can help with reducing inflammation. For those with skin concerns such as acne, this is one of my favourite ingredients to both calm and hydrate inflamed and irritated skin. When these properties combine, camellia sinensis leaf water is effective in both calming the skin, reducing acne, as well as preventing future breakouts. 
Salix Alba (Willow) Bark Extract is a plant extract known for its anti-inflammatory and skin-soothing benefits, even comparable to its exfoliant relative, salicylic acid. As such, it is often used to replace salicylic acid as a natural alternative to help skin conditions such as acne.
Aloe Barbadensis Leaf Extract is a commonly used plant extract for soothing and antioxidant properties. Mostly known for its quick relief for skin inflammation concerns like sunburns, aloe leaf extract can also provide deep moisture, hydration, wound healing and skin renewal in general!
This serum is definitely a must-try for those struggling with skin concerns like acne, or those with combination to oilier skin types. Since it's also formulated with niacinamide (also known as vitamin B3), one of the best skin-soothing, skin-restoring, and antioxidant that has the ability to improve appearance of large pores, uneven skin tones, wrinkles, dullness, weakened skin surface, etc., this serum can be seen as superior to others in the market.
I enjoy using this product both day and night due to its beautiful texture and consistency. Although it appears to be viscous, the serum absorbs very quickly and doesn't feel heavy at all. As such, I can easily layer this underneath other moisturizers, lotions, or even sheet masks. Initially, I did experience a slight purge from this product. However, it's an extremely common occurrence when switching new products since your skin needs some time to adjust to it. I definitely recommend starting slow, using a couple drops nightly or every other night, and slowly increasing it to daily use, both morning and night.
After using this product for about a month, I definitely notice a reduction in the amount of acne I have, as well as a reduction in hyperpigmentation from previous acne scars. Since I use this product daily, morning and night, I'm about halfway through my bottle. My guess is that this serum will last me about 3 months with daily use.
You'll only need 2-3 drops to cover the entire face. It's a fast absorbing, highly hydrating serum that seamlessly sinks into your skin. It does feel a little sticky after application, but that's common in serums due to their viscous consistency. This is on the lower end of the stickiness spectrum. I thoroughly enjoy using this both under makeup and other skincare. It does not feel heavy at all! Because there are some mild exfoliants in this product, I don't recommend applying on open wounds (for example after popping your pimples) as it may sting a little! Formulated without fragrances, the snail bee ultimate serum will not cause skin irritation, even for sensitive skin types.
Overall, I would rate this product a 8.5/10 – highly recommend others to try! 
Purchase it here: Benton Snail Bee Ultimate Serum 
-
Review by Joane: 
Hi everyone! I'm Joane, an avid skincare enthusiast and ex-makeup artist located in Vancouver BC, Canada. My skincare routine has definitely changed a lot throughout the years, especially after suffering from a severe reaction to a makeup product 2 years ago. After being introduced to my first k-beauty product from Cosrx, I immediately fell in love with the brand as well as the affordability of Korean skincare products. Due to the severe reaction to certain makeup products, I now pay a lot more attention to the ingredients that I'm putting on my face to better take care of my skin. I have combination, slightly sensitive, acne-prone skin with oiler areas around my t-zone and drier zones around my cheeks. I find that my top 2 favourite k-beauty brands for acne or problem skin are from Cosrx and Benton, with Round Lab and Pyunkang Yul emerging as notable highlights.